To commemorate the 275th anniversary of Crispus Attucks' birth and to honor African American Revolutionaries, the US Mint issued a Black Revolutionary Silver Dollar. The Silver Dollar was issued on February 13, 1998.
Crispus Attucks was the first patriot to die when he was killed by a British soldier during the Boston Massacre in 1770. The soldiers were defended by John Adams in the famous Boston Massacre Trial.
There were more than 5,000 enslaved and free African Americans who fought for America's independence from the British. Independence for the country arrived in 1776 but not for those enslaved African Americans who fought in the Independence War. Their descendants had to wait almost a century, until 1860 whenslavery was legally abolished.
The Crispus Attucks Silver Dollar
The obverse side of the coin (heads) shows Crispus Attucks and was designed by John Mercanti. The reverse side was designed by Ed Dwight and features the proposed Black Patriots Memorial.
A surcharge of $10 on each coin was used to establish a fund for the construction of the proposed Black Revolutionary War Patriots Memorial in Washington DC.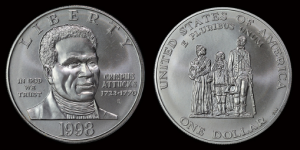 Crispus Attucks Silver Dollar Coin issued in 1998.
Next – John Adams Presidential Dollar Coin >>
Next – Sacagawea Native American Dollar Coin >>
Next – Why is Benjamin Franklin in the $100 bill?>>