The transatlantic slave trade, one of the darkest chapters in human history, saw millions of Africans forcibly transported to the Americas as slaves. But how did European slave traders acquire these human beings in the first place? This post aims to shed light on the complex dynamics and methods employed by European slave traders to buy slaves from African lords during this dark period in U.S. history.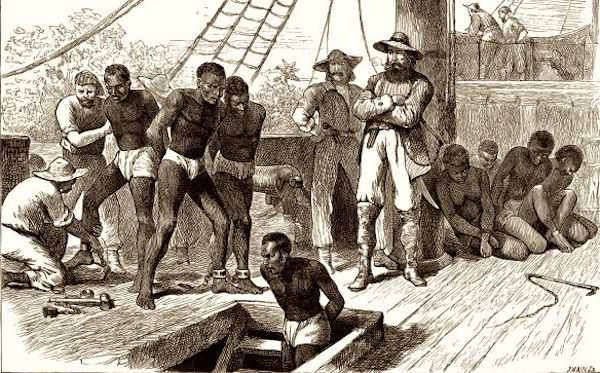 The Role of African Middlemen
It's essential to recognize that European slave traders did not venture into the African interior to capture slaves themselves. Instead, they relied on a network of African middlemen and rulers who were involved in the capture and sale of slaves to European buyers.
Capture and Enslavement:
African Intermediaries: African middlemen, often chiefs or leaders of various ethnic groups, played a crucial role in the slave trade. They would organize slave raids or wars to capture individuals from rival tribes or ethnic groups.
Raiding and Warfare: Slaves were often captured during intertribal conflicts or raids conducted specifically for the purpose of acquiring captives. This was a brutal and traumatic process that resulted in the separation of families and communities.
Slave Markets:
Trans-Saharan and Trans-Atlantic Trade: Africans had been engaged in slave trading across the Sahara Desert and the Indian Ocean for centuries before the arrival of Europeans. European traders tapped into these existing networks.
Coastal Slave Markets: Coastal areas of West Africa, including regions like Senegambia and the Gold Coast (modern-day Ghana), were centers for slave markets. European traders would establish forts and trading posts along the coast to facilitate the purchase of slaves.
African Traders: African traders, including local elites, would bring slaves to these coastal markets to sell them to European buyers.
Commodities in Exchange:
European traders exchanged various commodities for slaves, including firearms, textiles, alcohol, and metal goods. These goods were highly sought after by African rulers and were used to incentivize the capture and sale of slaves.
The "Triangular Trade" was a system in which European ships carried goods to Africa, traded these goods for slaves, transported the enslaved Africans to the Americas, and then returned to Europe with products such as sugar, tobacco, and cotton.
Role of European Powers:
European colonial powers, such as Portugal, Spain, England, France, and the Netherlands, established trading monopolies and forts along the African coast, which allowed them to control the slave trade to a significant extent.
Conclusion
The transatlantic slave trade was a highly profitable and deeply exploitative system that relied on the collaboration of various actors, including African middlemen, rulers, and European traders. It's essential to understand that the demand for slaves in the Americas drove this brutal commerce, and European traders leveraged existing African systems of capture and trade. The consequences of this dehumanizing trade continue to shape the legacy of slavery and abolitionism in U.S. history.
Sources:
Eltis, David. "The Transatlantic Slave Trade: A Database on CD-ROM." Cambridge University Press, 1999.
Klein, Herbert S. "The Atlantic Slave Trade." Cambridge University Press, 1999.
Lovejoy, Paul E. "Transformations in Slavery: A History of Slavery in Africa." Cambridge University Press, 2000.
Curtin, Philip D. "The Atlantic Slave Trade: A Census." University of Wisconsin Press, 1969.
Rediker, Marcus. "The Slave Ship: A Human History." Viking, 2007.